July 8, 2013
My dad advised me to prefer a Sardarji auto-rickshaw driver as they are known to be honest and upright
Two young turks from Kerala visited Ludhiana and addressed a group of school and college students enrolled in the Foundation Course of a career charity, SUKRIT TRUST.
Aleesha Mary Joseph, economics graduate from St. Stephen's College, Delhi hailing from Wayanad, a backward district of Kerala shared experiences of studying in Delhi. She inspired the youth to go for higher education in Delhi and not get restricted to local institutions. 'No obstacle of language, cultural differences can stop us if we have the courage and commitment to make a change. Like-minded people with a vision of betterment of society should network with each other', she said.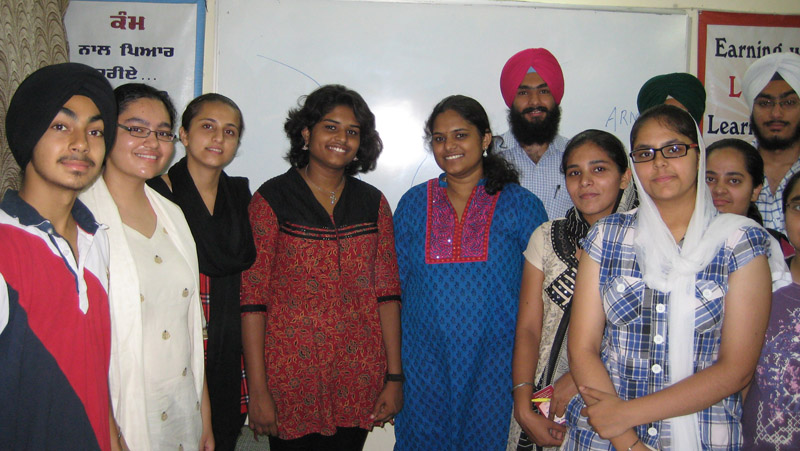 Ashly Mary Joseph, student of Class 12 at Mount Carmel School, Delhi also shared her experiences and dwelt further on the culture and traditions of God's-own-country – Kerala. The vibrant group of local students asked diverse questions. Responding to a question about the similarities between Punjab and Kerala, she pointed out how it was so hard to find a Malayali or a Sikh beggar reflecting the prosperity and hard-working culture of the two states. 'When I first came to Delhi for graduation, on grounds of safety, my dad advised me to always prefer a Sardarji driver when it came to taking an auto-rickshaw for commuting since Sikh people are known to be honest and upright', she quips.
Punjab has lots to learn from Kerala in terms of literacy, public action and participation. Cheating, fraud and deception in public space is met with fierce public resistance which also acts as a check on corruption among bureaucrats. 'Back in my place, my mother who is a government school teacher sometimes teaches till night in months before the exams – that is because there is so much focus on making even the weak students learn. In our district, there are lots of tribal students who have little interest in learning. But the schools contact the police if the children miss school and there have been occasions when the police jeep would pick up children from their homes and drop them in school', Aleesha tells with a vivid graphic description of the event.
Exhorting the youth to help the fellow human beings young Ashly said that in Kerala, one's problem becomes everyone's problem as people rush to help the victims of accidents or emergency situations; but that is not so in Delhi and in most of north India. Hence the general attitude of the people in India needs to be changed.
Later Harshpreet Kaur, an intern with Sukrit and BCom second year student proposed a vote of thanks to the speakers and all present.